9 AI Tools for Digital Marketing Useful for Business Owners
In this article, you'll learn about the best AI social media marketing tools on the market for automating social media marketing campaigns, analyzing competitor posts and getting detailed reports on their performance, creating posts and ad creatives based on information about your company, and scheduling and curating posts in advance. These artificial intelligence (AI) social media tools will assist you in creating focused and engaging campaigns that will increase your revenue.
Ocoya is an all-in-one artificial intelligence social media platform that allows you to produce, schedule, and analyze content all from one dashboard. Whether you want to plan posts on Facebook, Twitter, LinkedIn, or Instagram, or just enhance ROI with better targeting, more precise ad placement, and comprehensive performance statistics, we've got you covered with Ocoya.
This sophisticated tool is tailored for social media marketers and business owners who want a single platform to manage their marketing efforts across different networks. Over 10,000 professional social media templates are available with Ocoya. They feature a trending hashtag tool that analyzes your image and generates relevant and popular hashtags, as well as an inspirational quotation generator to give you, even more, copywriting muscle.
You don't have to juggle a bunch of different social media management tools and planners because it's also a social media management platform; instead, you can push, schedule, and plan all of your marketing content across all of your social platforms from Ocoya, which also has its own AI copywriting tool called Travis ai. The Travis artificial intelligence tool can help you with everything from landing sites to email campaigns to any form of ad and more.
Look no further than Ocoya if you want to effectively develop, manage, and distribute content across different social networks or improve your company's online visibility. There's also a link to Ocoya's 14-day free trial if you want to try out this amazing all-in-one social media marketing platform.
You can claim a lifetime deal on Appsumo.com 
Predis.ai is a social media creation platform powered by artificial intelligence. Predis AI will return post ideas replete with captions, hashtags, and creatives fit for your profile if you merely submit a brief one-liner about your business.
You can customize these and add them to your content calendar as needed. How does it manage to accomplish all of this? This is where their cutting-edge neural network comes in. Simply tell us your brand colors and our AI will create the best possible creative for you. Predis ai picks the best templates, fills in the text and photos, and customizes the creatives with your brand colors and typeface. It compiles data from all of your prior posts, comments, and interactions on social media networks in order to make suggestions based on facts rather than assumptions or speculation.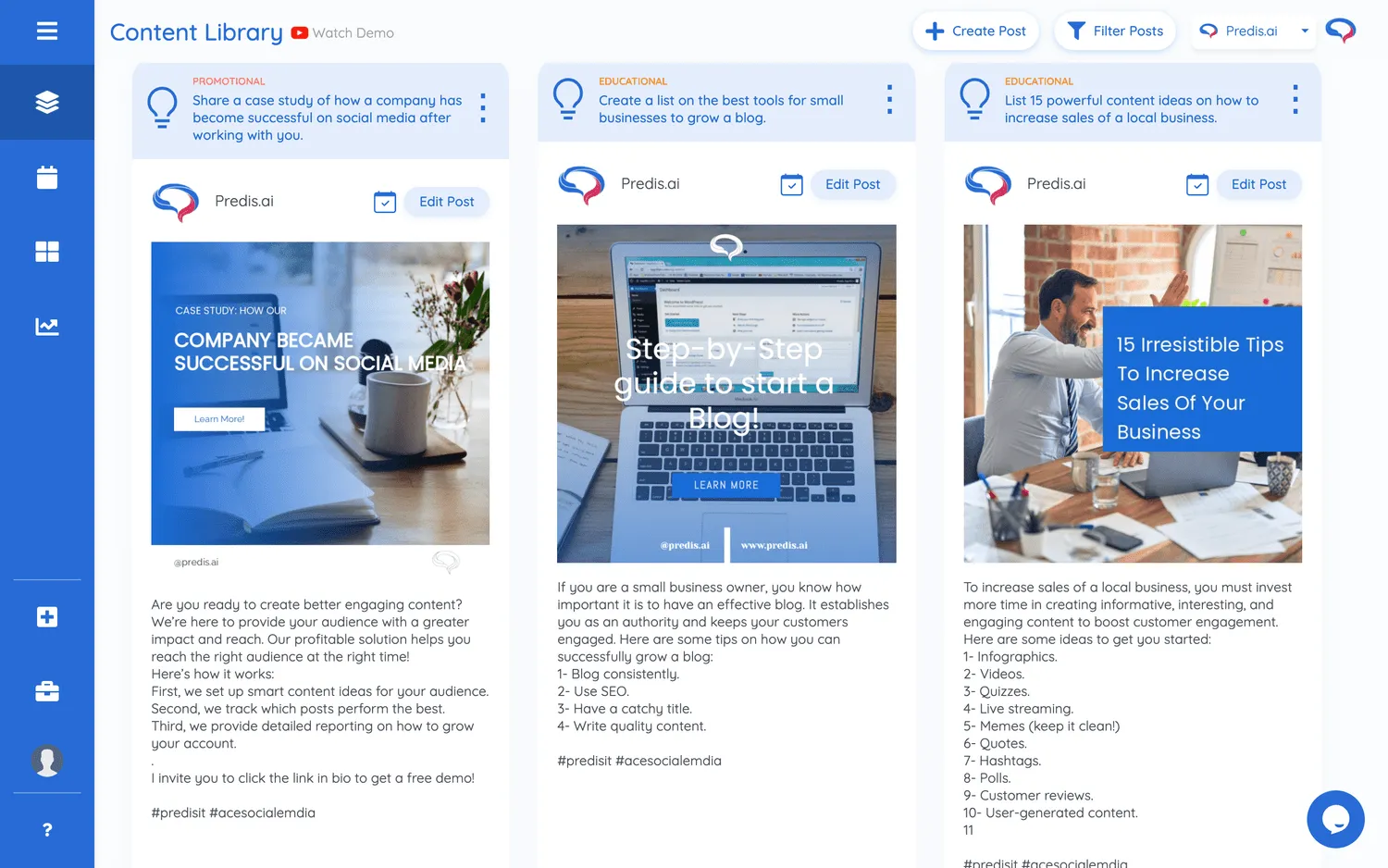 Predis's ability to optimize each post for maximum performance is another significant advantage. This means that each article you write has a better chance of being seen and read by more people, which helps your business acquire more awareness. Overall, Predis ai suggests photos from Unsplash and Pixels as suitable for your curated post ideas. For a full social media feed, you can choose from the free works of accomplished photographers and painters, but that's not all. Predis ai also gets data from multiple rivals' accounts, allowing you to observe what other businesses are doing well and poorly so you don't make the same mistakes. In fact, creating a free account takes less than five minutes, and once you're in, you'll be ready to start creating highly targeted content in no time. Predis offers a seven-day free trial.
Hubspot is a customer relationship management (CRM) tool that enables digital marketers and business owners to better communicate with and engage prospects. Apart from that, it provides social media marketing tools and data so you can track your company's performance, manage your content more effectively, and figure out which types of postings work best on each social network.
Small business owners can publish content to social networks from the same place they design campaigns with Hubspot's social media management platform. Set up keyword tracking and connect all of your interactions to your CRM so you can have contextual dialogues and report on social media ROI by allowing you to schedule posts ahead of time and even suggesting appropriate hashtags based on popular subjects.
Community management is no longer sufficient. When these features are implemented, many organizations experience an instant increase in conversions. Hubspot is, in general, one of those firms that are simply driving innovation in every field it touches. Hubspot could be just what you're searching for if you want to streamline your social media efforts without losing quality or innovation.
Adcreative AI may be right for you if you want to provide your company with an unfair advantage through creativity that is customized for your brand and developed by highly trained artificial intelligence. Adcreative AI is an AI-based technology that will help you create lots of ad creatives for your social media platforms or even pay-per-click campaigns using your ad account data and millions of data points from other advertisers.
Simply submit some basic information about your company and target market, and then sit back and watch them work their magic. What makes this software truly special is that, depending on how much content you already have, the longer you use it, the better benefits you'll get after only a few days or weeks.
What Adcreative AI can produce for you will have no bounds. All modifications to their neural network take into account the needs of active users' businesses, and they are always improving. Your social media marketing campaigns will benefit from Adcreative AI's superior tools and automation technology, making them quick, easy, scalable, and effective.
Missinglettr is a great way to connect with actual people in your niche without using dodgy social media bots or fake shares. With Missinglettr drip campaigns, you can easily turn your blog posts, videos, landing pages, and affiliate pages into high-quality social media content, as well as locate the finest influencers in your niche.
 Furthermore, using a drone as a content creation tool allows you to automatically discover the most popular social media content and share it across all of your favorite social media networks. It can automatically detect any format of your social content and put it in your library, where it will be dripped out over time. You can monitor how many clicks came from your social networks, how many shares you received, and which sort of material generates the most clicks when you run a campaign.
Everything is set out for you in simple metrics that allow you to capitalize on your new audience. In short, Missinglettr ensures that the proper people see and share your material, allowing you to develop your audience organically while receiving amazing shareable content in return.
InVideo is an AI video creator that aims to revolutionize social media video creation in order to bring video marketing into the future. You may make social media videos using InVideo by adding your logo, tagline, and company information. Then you can select from a variety of video themes, animations, and other creative tools to build your ideal video.
 Through your movies, you may employ creative capabilities such as 3D text animation or creatively modify colors, fonts, and more, as well as add a voiceover in the language of your choice. InVideo is an excellent alternative if you're looking for a professional video maker with a lot of options and effects that you can use for your social media campaigns.
Phantombuster is an artificial intelligence-powered marketing automation application that lets you automate any digital task.
Phantombuster may help you increase business leads, marketing audiences, and overall growth by auto-scheduling posts, locating influencers, tracking brand mentions, automatically like posts, and automating customer interactions. Customer conversations are managed automatically, thanks to chain automation that redefines how automation should work and scheduled notifications.
Look no farther than Analisa.io if you want complete transparency into how your efforts are doing, or if you need some extra help attracting new consumers or creating brand loyalty. Analisa.io provides you with raw analytics data as well as advice from top-performing influencers in your field.
There are also different filters that allow you to monitor and compare each platform independently or simultaneously to evaluate which one is giving better overall results for your campaign. If developing your audience or increasing interaction through social media seems onerous, let Analisa handle it for you, saving you hours of labor and providing immediate feedback on what's working and what isn't without losing quality.
If you're having trouble generating compelling descriptions for your social media posts or want to enhance your content output without spending extra time writing or hiring expensive copywriters, Jasperai is a good option.
Jasper is a top AI writer who leverages GPT-3 to create interesting material for your blog articles, advertising, and social media, with over 50 copywriting templates to choose from, including short social posts. Facebook advertising is identical to Google ads. Persuasive captions for photo bullet points emphasize marketing aspects that can help you write marketing copy in less time and generate more money.
These are the greatest AI social media tools, and as you can see, no one-size-fits-all solution exists because everyone's needs are distinct. If you're not sure which tool to use, most of these platforms provide free trials, so I recommend trying them out and determining which platform best meets your needs.
In conclusion, AI social media marketing tools are the future of online marketing. They offer a wide range of features that can automate social media marketing campaigns, analyze competitor posts, and provide detailed reports on their performance. If you want to stay ahead of the competition, then you need to consider using AI social media marketing tools.